Two weeks ago Google announced an official way for Partners to associate their websites with their YouTube channels.
Anytime you get the chance to officially sync your online accounts with your website and build your brand, you should take advantage of it!
I've been waiting for YouTube to do something like this, so I jumped on it as soon as I heard about it.
YouTube states…
This will help us improve the quality of our search results and verify your channel as the official representation of your brand on YouTube.
But unfortunately this process has caused some confusion, especially among those who have multiple YouTube channels — so I thought I'd offer some assistance.
Before getting started, make sure you already have a Google Webmaster Tools (GWT) account and the website you want to "associate" with your YouTube channel is already listed and verified.  This will make the process go faster and smoother.
NOTE: Right now, this is only open to full Partners (not monetize-only Partners), so hopefully they will roll this out to everyone soon.
Instructions
If you are a YouTube Partner, login to YouTube and go to Settings from the menu at the top-right of the screen.
Under Channel Settings in the left column, click Associated Website.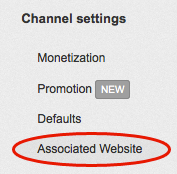 Now insert the website you want to associate in the field provided.
Next you'll need to verify that you own the site.  You can do this several different ways (Google Analytics, uploading an HTML file, etc.)  Choose the method you prefer.
If the email address you use for your YouTube channel is already linked to your Google Webmaster Tools account and the site is verified under that same account, you won't have to go through the verification step.
Once you verify your site (if necessary), you should see Success next to the site you've associated with your channel.

Multiple Channels or Different Email Addresses
So what if you have more than one YouTube channel that you'd like to associate with the same website?   For example, I have associated both my lisa3876 and 2createawebsite channels to 2CreateAWebSite.com.
Or what if your YouTube email/login is not the same email associated with that site's GWT account.
No problem.
You can still follow the instructions above, but you'll have to add one additional step.
After you verify you own the site, login to the GWT account where the associated site is verified.  From the GWT homepage, click on the site you want to associate and go to the Configuration menu.  Select Associates.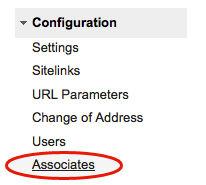 Now click Add New Associate.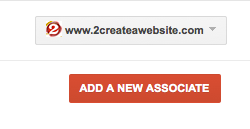 Insert the email address that is associated with the YouTube channel you want to link to this website and click the box that says, Link YouTube channel to site.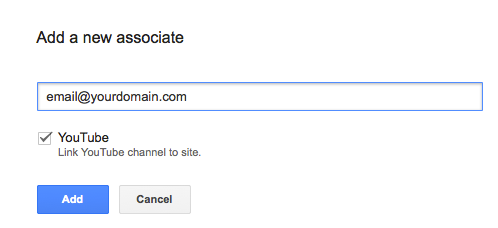 Now click Add.  You should now see that email address listed as a YouTube Associate for this GWT account.

If you've done everything correctly, when you log back in to your YouTube account, go to Settings and you will find that your site is now officially associated with your YouTube channel.

Phew! I know the process is a bit convoluted, but it's done this way to ensure no one else can associate your site with their channel and infringe upon your site's brand/popularity.
How this will impact SEO down the line remains to be seen.  YouTube claims this will help "improve the quality of search", but we'll have to wait and see exactly how much influence this will have on YouTube and Google SEO.
If you have any questions about the process, let me know.
You May Also Like…