If you follow me on Facebook (and I sure hope ya do!), you may have noticed the new cover photo I uploaded yesterday…

I just put together a free eBook on some of the best resources on the web that will help you manage your website.
So I thought I'd use my cover photo to help spread the word.
Yes, I'm late. It's been several months since Facebook started allowing a call to action on fan page covers, and I'm just hopping on the bandwagon.
Oh well. Better late than never, right?

Is It Worth It?
Absolutely!
Even though people rarely re-visit fan home pages after they "Like" them, when you update your photo, they see it in their news feed.
Plus, new fans will see the image and call to action when they visit for the first time to "Like" your page.
Just click the cover photo and you'll see a dialog box pop up. Add the call to action to the "Description" field above the comments.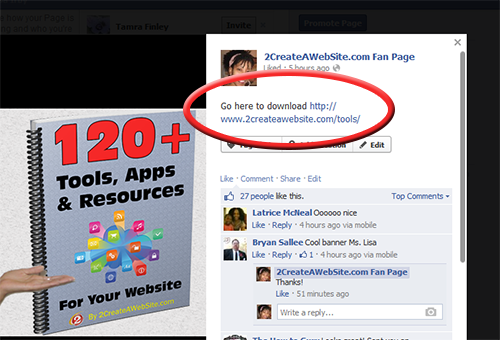 This strategy is great for…
Growing your email list
Promoting coupon codes
Announcing special offers and events
New product reveals
And so much more!
Because many of my fans are already on my email list, I don't require an opt-in for this book, but for my experiment site, I'm using this strategy to build my email list.
So when people click the cover photo, the link in the description takes them to an opt-in page to sign up for a free ebook.
By the way, isn't it great how Facebook has lightened up on their guidelines in the past year?

1) You can now add a call to action to your cover photo

2) Your cover photo is no longer limited to 20% text

3) You can run a contest on your wall without using one of the pre-approved, 3rd party apps

Gotta love it!
Where to Get a Cover Designed
I am often asked where I get my Fan Page covers created.
I do them myself in Photoshop, but there are a variety of different places to go if you want to outsource…
1) Fiverr
This can be hit or miss. I've seen some good ones created here, but I've also seen some not-so-good ones that remind me you often get what you pay for.

Try to get a referral for a particular user before selecting just anyone.
2) Elance, Freelancer, etc.
You can always outsource the work to one of the traditional freelancing sites. Just be sure to ask for sample work before selecting someone.
3) Custom Fan Page Designs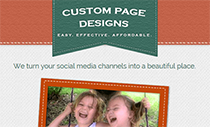 This is where Amy Porterfield goes for her FB cover designs. In fact, they create designs for Google +, Twitter, YouTube, LinkedIn and more.
4) Pagemodo
They have a free option, but as you can imagine, the designs are quite limited. You have to pay a fee to get access to more features.
If you have any recommended resources for cover designs, please list them below.
And finally, check out a recent article by HubSpot titled, 9 Do's and Don'ts For Creating Outstanding Facebook Covers.
They always have very well-designed fan page cover photos. See?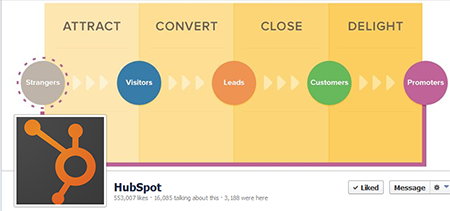 So what about you? Have you done much experimenting with your fan page cover photo? Feel free to share your page below or one of your favorites.