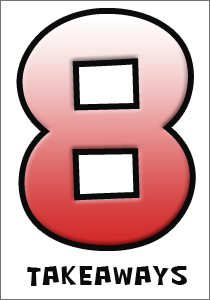 It was another busy weekend for Google's algorithm.
Penguin 2.1 rolled out and frustrated even more website owners who lost traffic.
On the flip side, others celebrated gains after recovering from previous penalties.
If you're having trouble keeping up with all the Google changes and what they mean, this post will catch you up.
1. Inconsistency is the New Constant
This following comment from Search Engine Land's post about Friday's Penguin update summarizes what a lot of people are noticing…

In case you haven't figured it out, Google wants to keep everyone guessing in order to prevent abuse and manipulation.
What works for one site may not have the same effect on another. I wouldn't even be surprised if they had different algorithms depending on the competitiveness of the niche.
Also, have you ever wondered why a certain site ranks above you when it has fewer quality backlinks and hardly any social media love?
Well that's the era we're in now with search engine optimization. There are so many on and off-page criteria that determine where a page ranks, and it changes constantly.
Moz crafted an excellent article on search engine ranking factors and explains how they correlate to one another. This is definitely one for the bookmarks!
2. Penguin Strikes Again, But Wait… There's More!
As I already mentioned, another Penguin update rolled out last Friday.
This particular update is always about the quality of the links pointing to your site and nothing else.
So if you were caught buying links or obtaining links from places Google doesn't like, they may lower your rank or drop your site out of search altogether.
Just remember, that doesn't mean there weren't other updates that The Big G didn't disclose.
So if your site got slapped and you weren't doing any so-called shady link building, there could be other undisclosed updates that Google never announced.
3. Yes, Google's Algorithm is Still Flawed
Google is constantly emphasizing that quality matters and black hat techniques (link buying, schemes, etc.) will be punished.
For the most part this is true, but no one exposes the weaknesses of Google's algorithm like Glen Allsopp, and he's done it again with this post.
No doubt Google has cleaned up a lot of mess in the SERPS, but low quality content still finds its way into the top 10 quite often.
And there's nothing more frustrating than seeing your hard work outranked by some low-quality site with spun or scraped content.
Even after all the Penguins, Pandas and now the first Hummingbird update, there's still work to do.
So don't be surprised if a scraper site still outranks you. Remember, Google is not human, it's run by an algorithm. And unfortunately people will always find ways to exploit it.
4. Manual and Algorithmic Penalties Require Different Actions
Sometimes Google assigns manual penalties to websites that they believe are engaging in activities that violate their guidelines.
If you get slapped by a manual penalty, you will receive a notification via Google Webmaster Tools.
Your next step is to review the notice, fix whatever you did wrong and then apply for a reconsideration request.
Penguin, for example, is an algorithmic penalty, so submitting a reconsideration request does you no good here.
You need to clean up your backlink profile and use the disavow tool to tell Google to ignore those "bad" links.
Next step… wait it out. When the next Penguin update rolls around, you will find out if your actions were fruitful.
5. How The Hummingbird Update May Affect Your Site
You've probably heard about Google's Hummingbird update by now, but you may not really understand how it could affect your site in the long run.
Well here's the gist of it…
Google is now relying more on the intent and semantics of search, rather than just the keywords used in the query.
Here's an example…
Say you do a search for best hamburger. Years ago that query may have revealed different articles that earned a rank by optimizing for that phrase and having the right backlinks.
Today, Google will try to understand your intent behind that query to serve up more useful results.
Maybe you're performing this search via voice-command from your Google mobile app. So Google assumes you're looking for a good hamburger place in your area and uses your current location to show restaurants that have "best hamburger" in various online reviews.
So if you have a hamburger recipe website that ranks for best hamburger, you might see it competing with more local results.
This is one example of how Hummingbird could impact your site.
Google has been leaning this way for a few years now with search, but the Hummingbird update just fine tuned this technology more than ever as Google aims to get smarter.
Does this mean that on-page criteria, backlinks and social shares no longer matter? Of course they still play a role. This is just another enhancement to the algorithm.
6. Google Will Start Hiding Keyword Referral Data
Pretty soon when you log in to Analytics, you will not be able to see what Google keywords people are using to find your website.
It will just show a total number of keyword referrals and the words "Not Provided."
Bummer, I know!
You can still use Google Webmaster Tools to see your average rank and Google AdWords customers will have access to this data too, of course.
So why is Google doing this? Is it really about security like they claim?
Do they want to make keyword manipulation even more difficult?
Are they trying to force more people to use Google AdWords?
My answer to that is simply yes, yes and yes! 🙂
Remember, Google is a business and they are always going to do what's best for their bottom line.
7. Quality Content Has Been Re-Defined
Are you tired of hearing phrases like "content is king" or "quality content always wins" yet your original, hard work never seems to be rewarded?
Here's the deal. Quality content does still win, it's just that the bar has been raised significantly.
In 2008, quality content for search engine optimization purposes was simply an original article that targeted a specific keyword.
In 2013, that same kind of article may not perform nearly as well if no one is sharing or linking to it. And it's not just about anyone sharing it, but the AUTHORITY of the person linking to or sharing the article.
And you better believe authority is a metric that will constantly be re-defined over and over again. Just because you have 50,000 Twitter followers doesn't necessarily make you an authority anymore.
Why? Because that metric can be gamed and so can things like social shares.
I got an email from a blogger who didn't understand why her article with 56 Facebook Likes and 23 Tweets was being outranked by other sites that had almost no social media shares.
Yes, those shares matter, but Google also knows that this can be easily exploited by people joining blogging networks to gain shares or paying for likes through a site like Fiverr.
So it would make sense that they would look at the bigger picture and also take into account the quality of backlinks, the person's individual AuthorRank and so much more than just one or two signals to determine a page's rank.
Gone are the days where you can look at a site's ranking and understand exactly how it was earned. Sure, you can still use certain tools to get an idea, but Google is definitely shaking things up!
If you get nothing else from all these updates, SEO is becoming increasingly complex and Matt Cutts warned us that it would.
8. SEO Scams Are an Even Bigger Business Now
It never fails. At least once a month I get an email from someone who has been scammed by some SEO service that makes ranking promises they can't deliver.
And the scams seem to be getting worse as SEO continues to evolve, so please be careful.
These people prey on individuals who are new to Internet marketing and don't how the search engines work.
The only real SEO experts are the ones who work on the Google search team. And the last time I checked, they weren't for hire.

Now, that's not to say there aren't reputable people and companies who can guide you. Just be careful and get a recommendation from someone you trust.
Arm yourself with education by subscribing to reputable sites on SEO like Search Engine Land, Moz and Search Engine Watch so you at least understand the basics and keep up with the latest news.
Need a crash course on how SEO has evolved? Check out my video from earlier this year.
So What About You?
What are your thoughts on all these updates? Were you impacted? How will it change your strategies? Looking forward to hearing from you!